The Cathar Trail (GR367)
Simply stepping onto the Cathar Trail is like taking a leap eight centuries into the past.
The legendary Cathar Trail, the GR®367, is among the most iconic long distance hiking trails of the French Pyrenees.
It stretches for 250 km from the beaches of the Big Blue to the Pyrenean balcony.
From lagoon to garrigue to mountain ridge, this path reveals the famous "Citadelles du Vertige"!
BEWARE : Notice of temporary detour on stage 12 between Roquefixade and Foix.


Among biggest :
Cathar Trail is Great Iitinerary of France member.  We can find in this network well known hikinng path such as pyrenees, le Mont Saint-Michel  or Saint-Jacques de Compostelle. This shows the prestige of this route…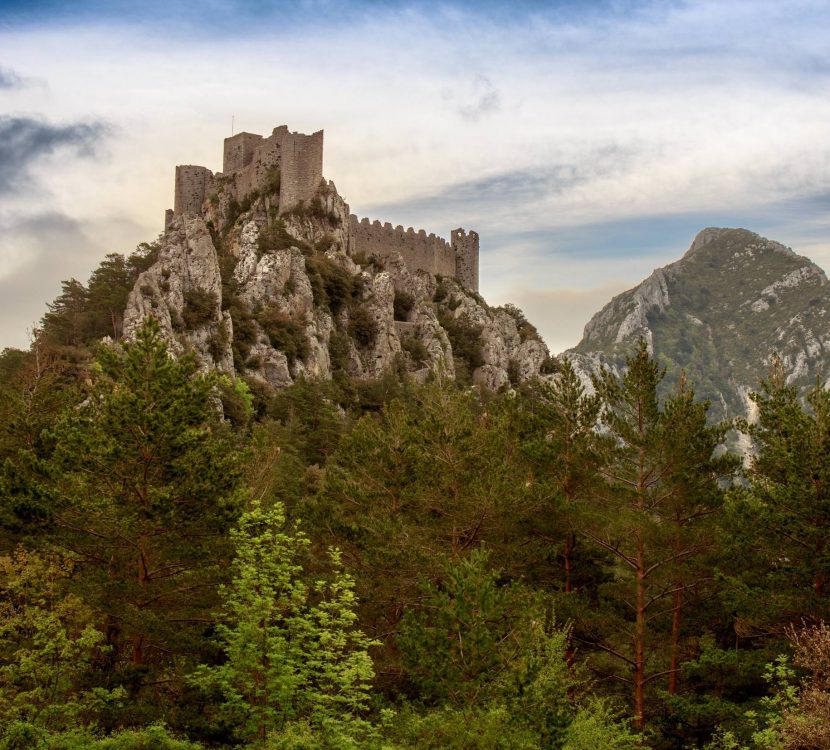 01 The Citadelles du Vertige
One of the Cathar Trail's main advantages is that gives hikers the chance to visit many of the castles of Cathar Country: Aguilar, Quéribus, Peyrepertuse, Puivert (and the Quercorb museum), Puilaurens, Montségur, Roquefixade and Foix.
An adventure in the great indoors which gets a little dizzying from time to time!
02 Climbing the mythical Pech de Bugarach
This is a peak of ancient legends. The majestic Pech de Bugarach arouses both fear and admiration. Some call it the "sacred mountain". From the foot of the mountain it'll take you nearly two hours to reach the summit. Climbing it is an amazing experience.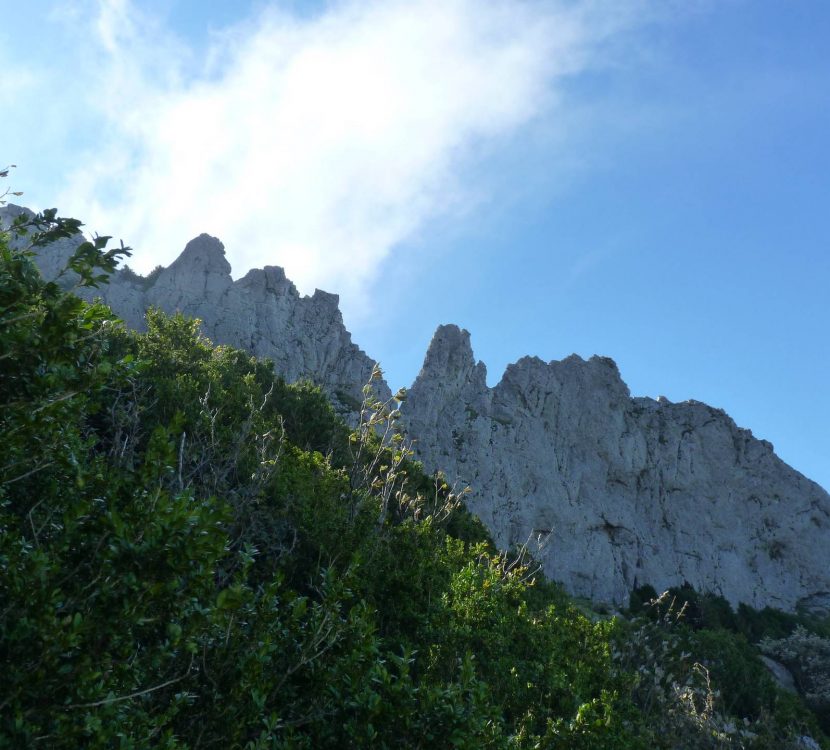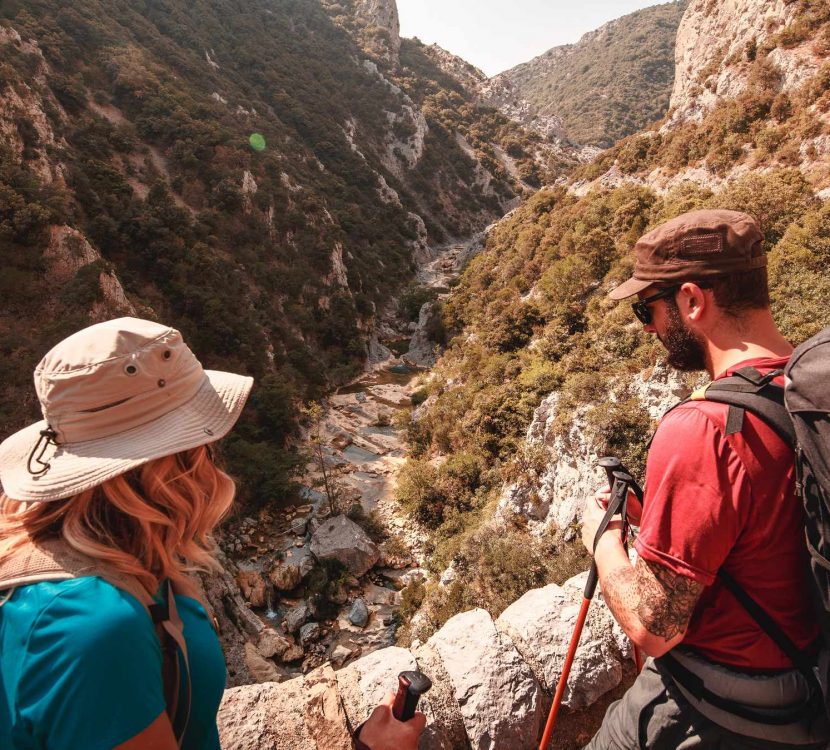 03 Galamus gorges and Ermitage Saint-Antoine
This spectacular landscape has been carved out by the Agly river and the pools created in the rock are wonderful places to enjoy the water, let off steam or just unwind. Water reigns here in canyoning country.
Clinging to the rock, the Saint-Antoine ermitage has towered over these gorges since the 14th century.
A unique site !
Mont Tauch isn't particularly high yet you can see it from miles away. Its silhouette seems to float like a ship above a sea of vines. Its "summit", the Pech de Fraysse, reaches an elevation of 917 metres. Which isn't very high! But from up there the panorama is remarkable with the sea in the distance, the Serra de Vingrau mountain ridge before you, the Canigou peak in the Pyrenees and Aguilar Castle to the east.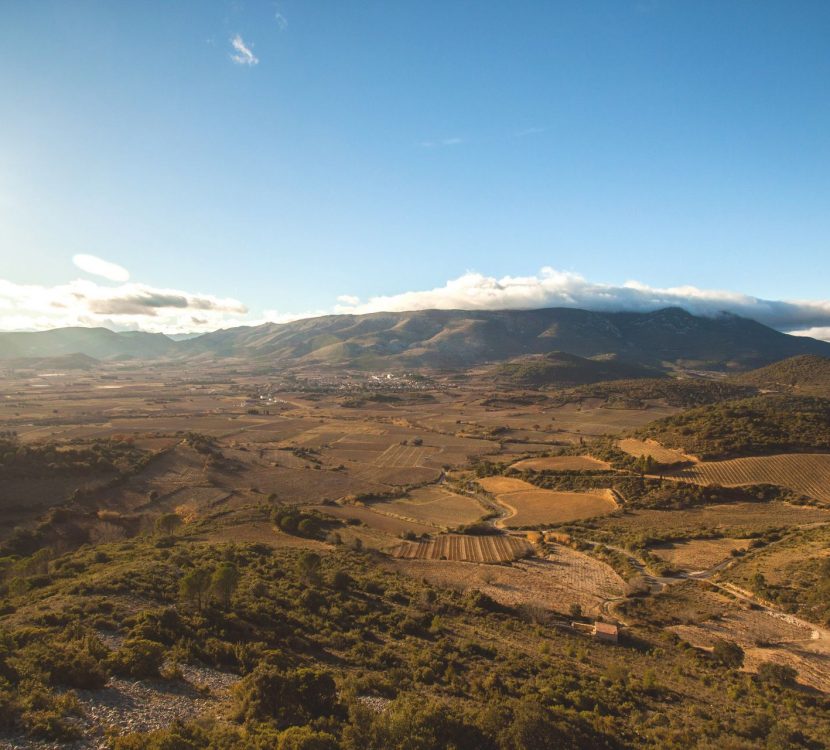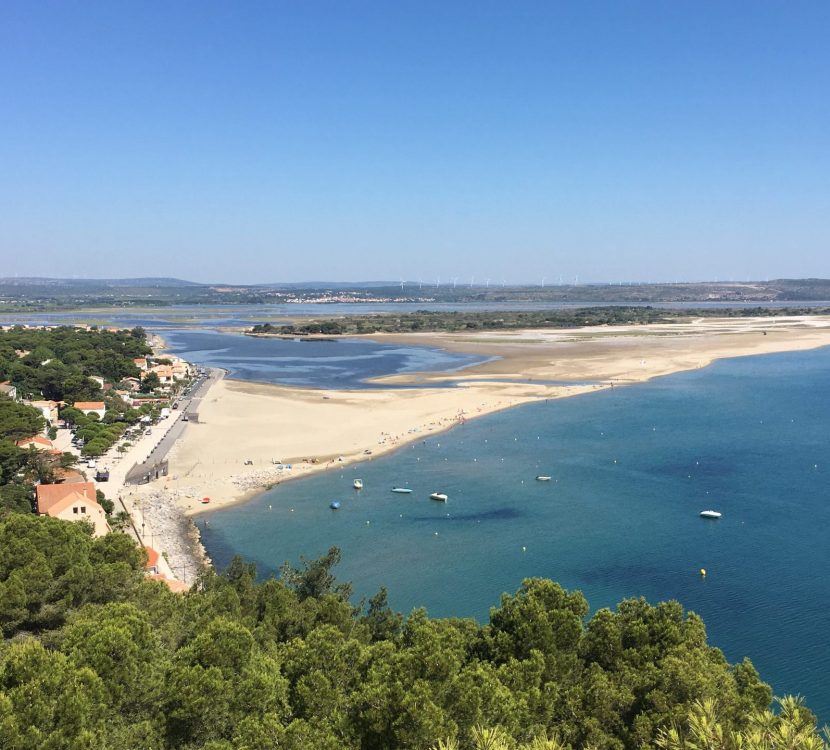 05 View over the Big Blue
You only need climb a little, barely into the Cathar Trail, before the landscape widens to offer breathtaking views over the Mediterranean Sea and the 50 km or so of beaches and lagoons that are so typical of the Aude coastline. From the cliffs of Leucate to the Massif de La Clape, you can feast your eyes on the Mediterranean's most beautiful sights, including the Tour Barberousse in Gruissan.