PORT FLUVIAL DE NARBONNE
NARBONNE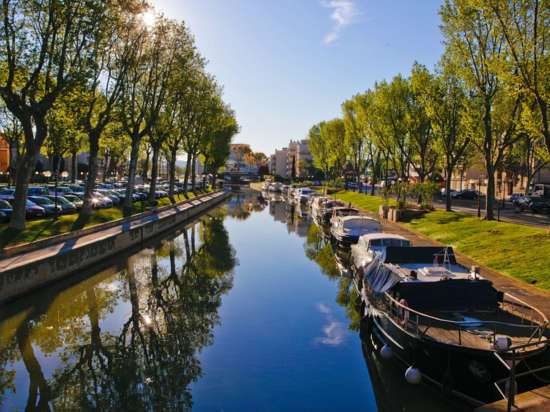 Description
The Canal de la Robine harbourmaster's office, open all the year. Showers and WC (closed at weekends).
Canal closed to navigation: 30/10 to 01/04 Open: 01/04 to 30/09
Amenities: water, electricity, municipal showers, toilet block.
Other services: slipway for 10-15m boats Possibility of overwintering.
Permitted boat dimensions: up to 30m – Draft: 1.5m – Air draft: 3m
Berthing charges vary according to season and boat dimensions (based on a 7.99 m boat):
No annual moorings available
4 mooring quays over 2.5 km: Quai des Barques (reserved for temporary stops), Quai Valière, Quai d'Alsace and Quai de l'Escoute.
Opening
From January 2, 2023 to December 29, 2023
Prices
Full fare : from 14,00€ to 27,00€
Full fare : from 67,00€ to 117,00€
Full fare : from 203,00€ to 405,00€
Payment
Credit card
Payment cards
Cheques and postal orders (F)
Money transfers
Location
Parking du Lavoir , Rue Jean Jaurès
11100 NARBONNE
Lat. 43° 11′ 4.65″ – Lon. 3° 0′ 3.82″

Route & access