LE FLORIDABLANCA
CARCASSONNE
Description
The Floridablanca opened its doors in 2017, rue trivalle, halfway between the Bastide and the Medieval City.
Jean-Loup, affable, delights his clientele, which mixes just as many tourists as "figures" from Carcassonne, with culinary preparations largely inspired by his Mediterranean culture.
His sidekick Quentin, at the service, takes care of everyone with great attention.
On the menu, there are dishes and tapas: from squid and homemade aioli to padrons, including a beef pika-pika or a few calçots…
Three rooms, three atmospheres for snacking, eating or sharing a drink:
– a sunny terrace which welcomes you on the trivalle side,
– the room of the bar-restaurant all in length in the Spanish fashion,
– a cozy patio in the back room.
Spoken languages : English, Spanish
News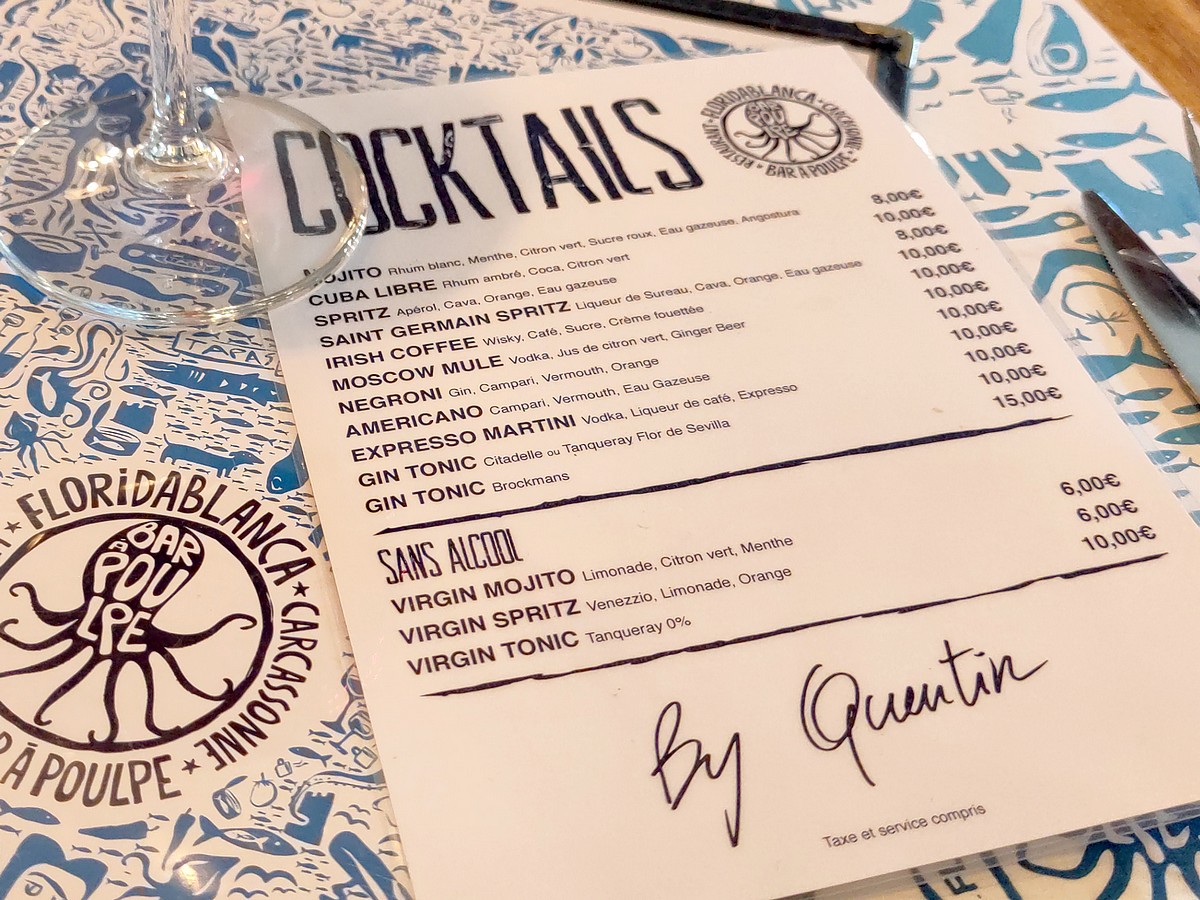 From April 1, 2023 to June 30, 2023
Le Floridablanca vous invite à découvrir ses cocktails… avec ou sans alcool !
Quentin est à la manœuvre… Spritz, Mojito, Irish Coffee, Negroni, Moscow Mule, Gin To… pour accompagner comme il se doit les tapas du moment concoctés par Jean-Loup.
En after-work, en apéritif ou en fin de repas. * L'abus d'alcool est dangereux pour la santé.
Opening
From May 9, 2023 to June 30, 2023
From July 1, 2023 to August 31, 2023
From September 1, 2023 to October 21, 2023
From November 7, 2023 to December 23, 2023
Prices
Payment
Credit card
Lunch voucher (F)
Cheques and postal orders (F)
Cash
Eurocard – Mastercard
Restaurant vouchers (F)
Visa
Equipement & services
Bar
Terrace
Wifi Internet access
Reviews
Location
22, rue Trivalle
11000 CARCASSONNE
Lat. 43° 12′ 33.57″ – Lon. 2° 21′ 40.8″

Route & access